Who are we?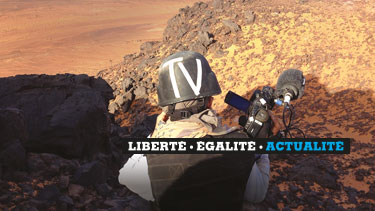 Liberté Égalité Actualité
France 24, the international news channel, broadcasts 24/7 to 521.7 million households around the world in French, Arabic, English and Spanish.
The four channels have a combined weekly TV audience of 101.7 million viewers (2022 average).
France 24 gives a French perspective on global affairs through a network of 160 correspondents located in nearly every country.
It is available via cable, satellite, DTT, ADSL, on mobile phones, tablets and connected TVs, as well as on YouTube in four languages.
Every month, France 24's digital platforms attract 23.2 million visits and 213.1 million video views (2022 average). France 24 has some 63 million followers on Facebook, Twitter and Instagram.
Key dates
5 December 2006: Exclusive worldwide launch on the Internet
6 December 2006: French and English channels broadcast to 80 million households around the world
2 April 2007: France 24 in Arabic launches with four hours of programmes per day
February 2009: France 24 becomes the first news channel in the world available live and free of charge in three languages via iPhone
12 October 2010: France 24's Arabic channel begins broadcasting 24/7
February 2011: Over 2 million France 24 mobile phone applications downloaded across the world
January 2013: New programmes are launched on all three channels and the schedules adapt to the channel's different audiences.
December 2013: France 24 crosses the threshold of 250 million TV households, notches up 14 million monthly Internet users and has 6.5 million followers on social networks. For its seventh anniversary, the channel launches its new programme schedules, a new broadcast design, new control rooms, a new website and proudly unveils its new tagline 'Liberté, Egalité, Actualité'
France Médias Monde
France Médias Monde, the group in charge of French international broadcasting, comprises the news channel France 24 (in French, English, Arabic and Spanish), the international radio station RFI (in French and 16 other languages) and the Arabic-language radio station Monte Carlo Doualiya. France Médias Monde broadcasts to the world in 21 languages.
Its journalists and correspondents offer viewers, listeners and Internet users comprehensive coverage of world events via news bulletins, reports, magazines and debates, with a focus on cultural diversity and contrasting viewpoints. 64 nationalities are represented among the group's employees.
Every week, RFI, France 24 and Monte Carlo Doualiya attract 259.6 million contacts (2022 average). The three media have over 100 million followers on Facebook, Twitter, YouTube and Instagram and recorded 3.4 billion audio and video streams in 2022.
France Médias Monde is the parent company of CFI, the French media cooperation agency and also a shareholder of the French-language general interest TV channel TV5MONDE.