Soviet spies in Africa: How the KGB expanded Russian influence during the Cold War
Russian influence in Africa has deep historical roots, from supporting an attempted coup in Ghana to spreading fake political news in Algeria and training African fighters in Crimea. FRANCE 24 looks back on four little-known Soviet operations aimed at furthering Russian interests in Africa during the Cold War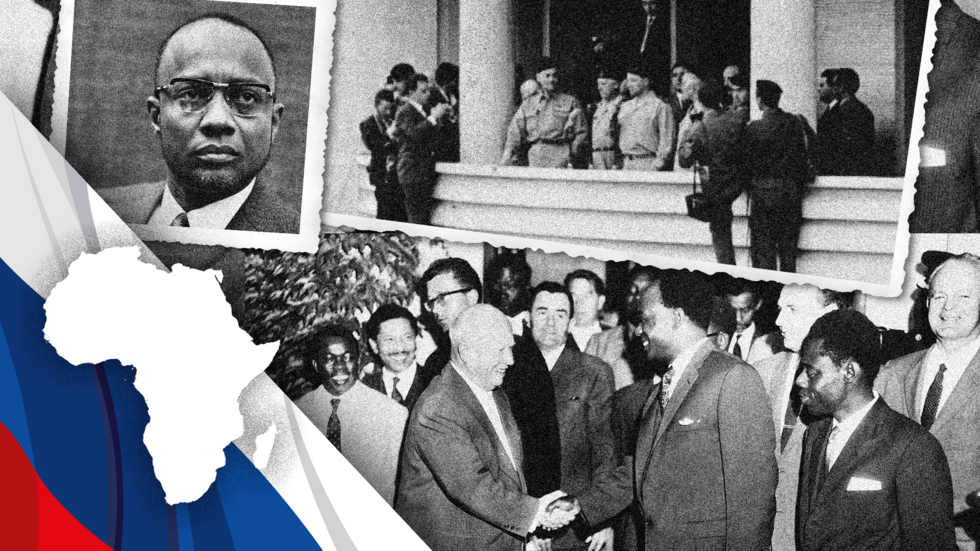 The full-scale invasion of Ukraine in February 2022 reignited an old battle for global influence between Russia and the West that has also put Africa in the spotlight.
Under President Vladimir Putin, Russia has sought influence on the continent through "irregular (and frequently extralegal)" means, according to the Africa Centre for Strategic Studies, including the use of mercenaries, supporting coups, running disinformation campaigns and interfering in elections or trading arms for resources. But such tactics are far from new.  
Russian influence in Africa dates back to the Cold War when the Soviet regime aimed to forge ties with African countries based on shared economic ambitions and mutual distrust of the West. Moscow used the Soviet-era KGB to destabilise governments and spread disinformation in its bid for influence on the continent. Many of these incidents are still not widely known, but they illustrate that Cold War-era Russian spies were already weaponising "fake news".
Read moreFrom Khrushchev's KGB to Putin: the deep roots of Russian influence in Africa
Operation Alex: Mission impossible in Ghana 

 
As the first African country to gain independence from British colonial rule in 1957, Ghana held an influential position on the continent as the Cold War raged at the end of the 1960s.
The country's first prime minister, Kwame Nkrumah, had close links to the Soviet regime, and it was a blow to Russian influence when he was ousted from power by a coup in 1966 – especially as his successor was a pro-US general, Joseph Arthur Ankrah. 
Behind the Iron Curtain, Soviet spies considered their options for trying to reinstall Nkrumah as head of state. One of these attempts – Operation Alex – illustrated how important Africa was to the secret services of Soviet satellite states and the difficulties its agents faced on the ground.  
The operation began with eggs. The head of the Czech secret service in Ghana, Karel Hotarek, went to a farm in 1967 run by Czech nationals not far from the capital, Accra. Hotarek arrived under the pretext of buying fresh eggs but in reality he had a meeting with Kofi Batsa, a writer and political activist with close ties to Nkrumah.     
Batsa told Hotarek of a plan for a countercoup that would topple General Ankrah and promised support from around 30 powerful members of the armed forces. All that was missing, he said, was financial support from Prague and Moscow.   
Hotarek left the meeting excited by the plan and managed to secure the funding from his superiors. Operation Alex was set to go ahead in October 1968; Nkrumah was informed by contacts close to Russia to prepare himself for a return to power.      
But over time, Hotarek and Russia's GRU military intelligence agency became increasingly suspicious of Batsa, even arresting him in August 1968 – two months before Operation Alex was supposed to begin. Spies from the Eastern Bloc feared they had handed over Soviet arms and money to an untrustworthy loudmouth who was incapable of leading a secret operation. 
His arrest did not deter Moscow, which planned to go ahead with Operation Alex in league with other co-conspirators.But months passed, and the countercoup never happened.      
There is no official explanation as to why, and even key figures in the project were left wondering what had happened. "Why it has not gone up I can't understand," Nkrumah wrote in a letter to historian June Milne in December 1968. "I was made to understand that something was going to happen around this time, and nothing has happened." 
Soviet indoctrination: Military training at Crimea's

Centre 165
The unregistered flights would land late at night in Crimea, carrying groups of young men, from 15 to 30 years old, arriving from African countries friendly to the USSR. On the tarmac, busses with their blinds drawn waited to transport the new "students" to Centre 165 in Perevalnoe, a village in Crimea.   
The village had been homesince 1965 to the largest Russian training centre for fighters from African liberation movements, holding 500 students at any one time. Some 15,000 fighters were trained there in the 26 years it was open, including from the African Party for the Independence of Guinea and Cape Verde, the Popular Movement for the Liberation of Angola, the African National Congress party in South Africa and the Liberation Front of Mozambique. 
Training was intense and supervised, in part, by the KGB. Students had to get up at 6am each day and do an hour of gymnastics before breakfast followed by five consecutive hours of military exercises. After lunch, students did paperwork or worked on the grounds until dinnertime, then watched screenings of Soviet films. Military training continued after nightfall, when students learned skills such as how to cross minefields in the dark.   
Fighters studied the Russian language, Marxism, Leninism and the history of revolutions around the world. As the centre was around 20 kilometres from the beach town of Alushta, the surroundings also provided an idyllic backdrop for witnessing communist values in real life: Once a month students would visit collective farms, shops and schools. 
Although the centre was considered a highly effective method for spreading Soviet values and military know-how, it disappeared after the USSR collapsed in 1991 and seems to have left little trace. Students who were trained there and who "sometimes still occupy management positions in their country's military apparatus, for example in Angola, do not admit to having been trained in the Soviet Union", historian Natalia Krylova wrote in her 2017 study on the Perevalnoe training centre. 
Fake news: De Gaulle and the KGB in Algeria

  
A diplomatic rift between France and the US grew to such proportions that US president John F. Kennedy almost cancelled a planned state visit to Paris in May 1961. Neither the US nor France knew at the time that the spat was the product of disinformation planted by KGB agents seeking to reframe events in Africa to discredit Washington and sow mistrust between Western allies.   
At the time, Algeria's National Liberation Front (FNL) was seven years into a war against France that ultimately saw the country winning its independence from colonial rule. By January 1961, the FNL had entered negotiations with French president Charles de Gaulle, but a group of French generals opposed the talks. The Generals' Putsch of Algiersin April saw leading members of the military try – and fail – to oust de Gaulle.    
Amid the chaos, Russian agents saw opportunity and planted an article in an April 1961 edition of "Paese Sera", an Italian left-wing newspaper, entitled: "Was the Military Coup d'état in Algeria Prepared in Consultation with Washington?"  
Its authors claimed that one of the putsch leaders, General Maurice Challe, was a CIA agent on the basis that he was known to be pro-Washington. Challe "had served in NATO headquarters and was unusually pro-American for a senior French officer", according to a 2001 report on disinformation and the CIA by Max Holland at the Miller Center of Public Affairs. 
The fake news planted in "Paese Sera" by the KGB quickly gained traction. An official Russian newspaper, "Pravda", ran a story alleging CIA support for the revolt as did the Russian state news agency TASS and Radio Moscow. French news daily "Le Monde" then picked up the story, writing, "it now seems established that American agents more or less encouraged Challe".   
The newspaper was later quick to backtrack on the claim, but the damage was done. France's foreign minister, Maurice Couve de Murville, had to deny the allegations at France's parliament to calm rising tensions with Washington. 
The episode was an "excellent example of how the Communists use the false news story" to great effect, Richard M. Helms, then an assistant deputy directorat the CIA, told the US Senate Internal Security Subcommittee in June 1961.  
Arms for information: 'Alter' and 'Sekretar', secret agents
The relationship between Soviet agents and African liberation fighters could be beneficial to both sides, as evidenced by the relationship between two spies during the Cold War known as "Alter" and "Sekretar".
Alter, also known as Miroslav Adamek, was a Czech diplomat stationed in Guinea's capital Conakry who spied for Prague.
Sekretar was Amilcar Cabral, a leading figure in the African liberation movements of the 1960s and '70s and founder of the African Party for the Independence of Guinea and Cape Verde (PAIGC).
Adamek and Cabral held their first professional meeting in November 1960. The two men shared a meal together, after which the Czech spy said he found their conversation "highly encouraging" and suggested recruiting Cabral as a"clandestine contact" under the code name Sekretar, meaning "secretary".
Cabral, who was known to be inspired my Marxist ideology, used the meeting to ask for financial and logistical aid to support an uprising against Portuguese colonial powers in Guinea. Moscow – keen to gain new allies – agreed. 
It is unlikely that Cabral was a full-fledged Soviet spy, and he may not even have even been aware of the clandestine aspect of his relationship with Adamek. The latter maintained his cover as a diplomat and used it as a pretext to ask Cabral for information about African independence movements.  
Despite the subterfuge, the relationship was mutually beneficial. Cabral got weapons that strengthened the PAIGC as a military force. His brother was sent to study medicineat Moscow's Patrice Lumumba University and his daughter, Iva, was accepted into a prestigious boarding school near the Russian capital.
In exchange, Prague – and Moscow – gained insider information from events to which Cabral was invited, such as conferences between countries that opposed the Soviet Union. They were also able to gain a deeper understanding of thefigures leading liberation movements across Africa.
The relationship only dried up when Russian tanks invaded then Czechoslovakia in August 1968 to supressthe cultural liberalisations of the Prague Spring, after which Czech spies were less inclined to support Moscow.
This article was adapted from the original in French.
Daily newsletterReceive essential international news every morning
Subscribe